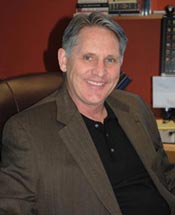 Phone: 520-624-0126
Fax: 520-624-9238
Email: mfm@mgm-legal.com
Michael F. McNamara has practiced law in Arizona for 33 years. He is also a CPA-Ret. The emphasis of his practice has been in the areas of personal injury and insurance litigation matters. Over the last decade, a significant portion of his practice has included representing victims in medical malpractice cases, including psychiatric and psychological malpractice cases.
Mr. McNamara has also developed a particular interest in handling traumatic brain injury cases, including cases involving birth injuries. He is a member of the North American Brain Injury Society (NABIS) and the Brain Injury Association of Arizona (BIAAZ). He has won numerous multi-million dollar recoveries, both by jury verdict and private settlement for the victims of such injuries and their families. He has been the lead attorney on countless cases involving catastrophic injuries and wrongful death claims, both for claimants and for defendants.
Mr. McNamara's experience also includes having represented most of the major insurance companies in the United States on diverse litigation matters, including insurance coverage matters; business and property damage losses; complex mass tort claims, including environmental claims; complex civil rights actions; public entity liability; product liability claims; and medical anti-trust law claims.
Mr. McNamara was awarded a Bachelor of Science in Business Administration from the University of Arizona in 1980. He has been a Certified Public Accountant (Retired) in Arizona since 1982 . He received a juris doctorate degree from the University of Tulsa College of Law in 1986, where he served as the Managing Editor of the Tulsa Law Review. He is admitted to practice in the State and Federal District Courts of Arizona, the Ninth Circuit Court of Appeals and the United States Supreme Court. Mr. McNamara is a "Preeminent" AV-rated lawyer with Martindale-Hubbell and has an AVVO rating of 9.5.
Reported Appeal Cases
City of Tucson v. Superior Court In and For County of Pima, 161 Ariz. 441, 778 P.2d 1337 (App. 1989); 165 Ariz. 236, 798 P.2d 374, Supreme Court of Arizona, In Banc. September 18, 1990. Establishing law as to application of pure comparative fault versus contributory negligence concepts in a complex contribution action.
Estate of Hernandez by Hernandez-Wheeler for and on Behalf of Hernandez v. Arizona Bd. of Regents, 172 Ariz. 522, 838 P.2d 1283 (App. 1991); 177 Ariz. 244, 866 P.2d 1330, Supreme Court of Arizona, In Banc. January 13, 1994. Reversing existing law and establishing social host liability for serving alcohol.
Stephens v. John C. Lincoln Hosp., 2005 WL 1300752, April 21, 2005. Reported verdict of $5.825 million following a three-month trial in a multiple defendant medical malpractice acquired brain damage birth injury case.
Insurance Co. of North America v. Superior Court In and For County of Santa Cruz, 162 Ariz. 499, 784 P.2d 705 (App. 1989); 166 Ariz. 82, 800 P.2d 585, Supreme Court of Arizona, In Banc. November 1, 1990. Establishing liability against auto insurance company and assertion for failure to offer UIM coverage up to the amount of liability coverage.
Nguyen v. Nguyen, 155 Ariz. 290, 746 P.2d 31 (App. 1987). Establishing imputed homeowner liability for a guest's gratuitous conduct resulting in injury to another guest deemed a licensee despite being present for voluntary services.
Jackson v. Pima County, 159 Ariz. 331, 767 P.2d 54 (App. 1988). Claims of alleged negligently issued permit and approval of building plans by public entity controlled by limitation of actions created by statute in flood damage case.
Ethridge v. Arizona State Bd. of Nursing, 165 Ariz. 97, 796 P.2d 899 (App. 1989). Establishing standards and constitutionality for enforceability of state licensing and discipline of Arizona nurses in a physician's "standing orders" case.
Martin v. Staheli, et al., Navajo County Superior Court Case No. CV2016-00214 (App. 2019). Appeal pending as to viability of survivor consortium claims where catastrophically injured man in a medical malpractice case dies during pendency of litigation.