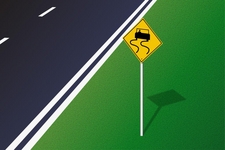 When negotiating and litigating liability and compensation amounts following car, truck, motorcycle, bike and pedestrian accidents, it is crucial to:
have an effective strategy in place; and,
understand how your opponent is likely handling the case.
We have both the experience to effectively handle your auto accident claim and a clear understanding of insurance companies' tactics when attempting to minimize, delay and avoid payouts. Each of our firm's partners has practiced personal injury law for over 20 years. Additionally, each attorney at our firm is a former insurance defense lawyer.
We handle over 100 personal injury cases each year 
Each attorney handles his or her own cases, including the investigation and research.You will always know exactly which lawyer is handling your claim... ...and that lawyer will always be completely knowledgeable regarding the status of your case.
Our Former Defense Work Helps Us Help You
Our work as insurance defense attorneys gives us a full perspective on insurers' methods and processes. We know how:
Insurance companies evaluate claims
Insurance companies formulate offers intended to minimize costs
Insurance companies utilize claims practices to benefit their bottom line
We have a long track record of success in recovering compensation for pain and suffering, lost wages, property damage, medical expenses and diminished earning capacity following car accidents.
Free Initial Consultations
Contact McNamara Law Firm, PLLC for effective legal representation in Tucson and throughout Southern Arizona.