Finding Applicable Coverage and Pursuing the Payment You Deserve
When trying to attract customers to pay premiums, insurance companies are easy to find. They may be harder to find when it is time for them to pay compensation following injuries, property damage and other insurance-related losses.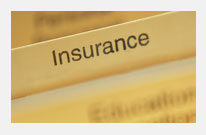 We are highly skilled at resolving insurance disputes. Insurance disputes often involve finding and enforcing coverage. Almost every attorney at our firm has worked for at least 10 years as an insurance defense lawyer. We understand insurance company practices, and we know how to determine how much they owe you. For example:
We are experienced at "piercing the corporate veil" behind which insurance may exist. Often, insurance may not appear to exist because over overlapping business ownership structures. We can determine who is responsible for payment by following the ownership chain to parent companies and even individual owners, who are separately insured.
We are skilled at identifying additional coverage when another coverage fails. In a recent case, our client failed to collect on insurance payouts from a bankrupt trucking company. We pursued payment from other related trucking entities involved in the accident, including contractors, and obtained a sizeable payment for our client.
In some cases it may be necessary to go through a dozen "shell" companies to identify the truly responsible entity and even litigate against offshore firms. We routinely accept difficult commercial and insurance cases turned down by other attorneys. McNamara Law Firm, PLLC has the resources necessary to carry expenses for years in complex coverage and class-action insurance dispute cases. Call us at 520-624-0126.