Diabetes Meds linked to Cancers and Heart Failure
If you or a loved one was diagnosed with pancreatitis, pancreatic cancer, thyroid cancer or heart failure after taking Onglyza or Kombiglyze XR, the attorneys at McNamara Law Firm, PLLC may be able to help you.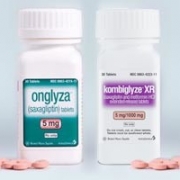 What are Onglyza and Kombigylze XR?
These two drugs belong to a class of medications called incretin-based therapies or DPP-4 inhibitors. They are used to control blood sugar in patients with Type 2 Diabetes. Onglyza was introduced in 2009 and Kombigylze HR in 2010. Unlike other diabetes medications Onglyza doesn't encourage weight gain, making it very appealing to Diabetes sufferers. Kombiglyze XR (saxagliptin and metformin HCI) is an extended release alternative that includes Onglyza. These two medications are widely prescribed and sales are in the range of one billion dollars a year and rising. They are manufactured by AstraZeneca and Bristol-Myers Squibb.
Pancreatitis and Pancreatic Cancer
Some doctors believe there is a link between these DPP-4 inhibitors and Pancreatitis, an inflammation of the pancreas, which can lead to hospitalization, cancer and death, and Pancreatic Cancer, a form of cancer that is difficult to treat and often fatal because diagnosis frequently is only made after the disease has advanced.
Studies Show a Link
In 2013 study, researchers found pre-cancerous cells in the pancreases of autopsied people who had been taking  DPP-4 inhibitors.
One study posited that DPP-4 drugs muliply the number and mass of beta cells, which secrete insulin, in the pancreas. Researchers further found that these beta cells were abnormal. They also noted the presence of adenomas, a benign tumor, that may become malignant.
This finding is notable because it was only documented in Type 2 diabetes patients who took DPP-4 or GLP-1 drugs (Byetta and Victoza, which are related to DDP-4 medications), and not in people with diabetes who had taken other types of medications.
In 2011, the drug maker added a warning to its label regarding the risk for Pancreatitis. 
Heart Failure
In 2013, researchers commenced a study of 16,492 patients to determine whether Onglyza might provide heart-protective benefits in addition to controlling blood sugar. Instead of protecting the heart, scientists found the drug posed a small elevation in heart failure risk.
Some doctors believe the drug should probably not be taken by patients with risk factors for heart failure.
Thyroid Cancer
Additional Studies in 2015 indicated a higher-than-normal risk of thyroid cancer while confirming an increased risk of pancreatic cancer and heart failure.
Onglyza and Kombiglyze XR Lawsuits
Lawsuits are being filed now. In the past, drugs in the same class as Onglyza and Kombiglyze XR, like Januvia, which are also associated with pancreatic cancer, have resulted in hundreds of lawsuits against the drug manufacturers. If you have taken one of these medications and were subsequently diagnosed with Pancreatitis, Pancreatic Cancer, Thyroid Cancer or Heart Failure, McNamara Law Firm, PLLC can help. Call us at 520-624-0126.