When Ordinary Personal Injury Legal Services Aren't Enough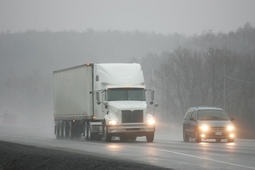 Truck accident legal cases, though sometimes complex, often boil down to "who is liable and for how much". Semi truck accident cases are almost always more complex and demand the involvement of an experienced truck accident lawyer. How?
Attorneys handling truck accident claims must have extensive knowledge of federal trucking industry regulations and statutes. Truck accidents demand a thorough investigation of driving logs, GPS/"black box" records and other evidence. An attorney must have the ability to handle these issues.
We have recovered Millions of Dollars for Accident Victims in Tucson
At the Tucson litigation firm of McNamara Law Firm, PLLC, we have the experience to effectively handle your semi truck and 18-wheeler accident case, as well as accidents involving:
Delivery vehicles, including UPS and Fed Ex trucks
Municipal vehicles
Company-owned cars
When handling your case, we will immediately pursue important evidence. The first step? Sending a certified letter to the trucking company the day you hire us that demands that it preserve specified evidence.
We will then use our extensive resources to work with all necessary experts to investigate and build your claim, including:
Accident reconstructionists
Former law enforcement officials
Investigators
Regulation experts
Tire and seat belt experts
Engineers, who can create a computer reconstruction of the accident
We can investigate the driver's driving record and the company's hiring practices and history, and pursue maximum compensation for you. Our lawyers have recovered numerous significant awards following truck accidents, and have handled cases ranging from minor injuries to wrongful death. Call us at 520-624-0126.
"Why Drivers are Paid by the Mile" Trucking Truth Blog, Read More.